I am madly in love with Miss Alexandria Ocasio-Cortez! Her voice lifts me up, her beautiful smile gives me strength! I was lost before I found her. She is no ordinary woman, no, something much more! I hope one day she returns these feelings, but she is a busy, accomplished woman and I am a nothing more than a lowly buffoon. A cartoon character, making himself look foolish for the amusement of others.
Nevertheless, I hope that one day she finds these musing and they bring a smile to her face. Nothing would make me happier!
In less exciting news, I am currently working on a new cartoon. This one will be a George Lopez parody. I find it quite comical to use sitcom characters, putting them in less family friendly situations. Here is a screenshot of a cutaway scene, it has proven to be quite controversial with some of the people I have shown.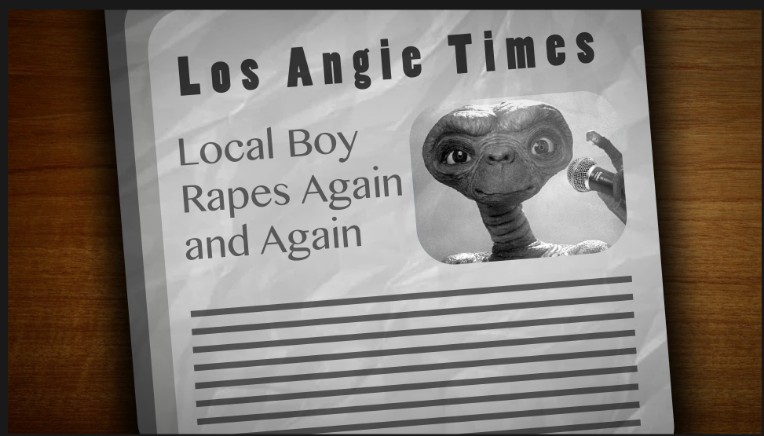 I am not sure if I am satisfied with the image yet, I may edit the ET picture into something more bizarre looking.
I have also started posting my cartoons to YouTube, I beg that you like, subscribe and leave a comment! I have worked hard to create my cartoons and I want very much for them to be seen by others. I can return the favor, I have very little else to do currently.
https://www.youtube.com/watch?v=byvaGNTLnvs
My channel can be found at
https://www.youtube.com/c/zaciedreturns
I have also made a Twitter, I think the posts are quite humorous, but some may disagree. I will bug you on there if you wish.
You can also add me on Facebook if you want, I am on there pretty regularly. Feel free to strike up conversation, I am just a man afterall!
https://www.facebook.com/zach.ryan.378537
You can also watch The Dance Party right here on Newgrounds at https://www.newgrounds.com/portal/view/669808
If you have any work you would like to share with me, to get my thoughts on, let me know. I will do my best to accommodate. Also, Thomas, is there a way to preview blogposts? I do not see an option, I think it would be helpful. I suppose it is not necessary but I consider myself to be a bit of a perfectionist.